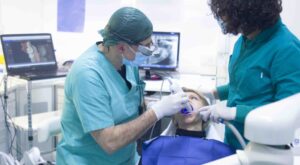 Why Dental Implants Are Preferred Over
Dentures
Dental implants have become increasingly popular. Implants are much more preferred over dentures for many reasons, including functionality and aesthetics. For example, dentures can make it difficult for some to eat hard or sticky food but implants give you full freedom of food choices without feeling guilty or harming the implant. Besides its functionality, people also opt for dental implants because of their natural finish. It can be matched with your natural tooth shade and boost your self-confidence.
Apart from those fundamental benefits, another advantage is the convenience of taking care of them. It's easy to care for implants. Just follow a regular oral hygiene/routine: brush twice, rinse with mouthwash and flossing. 
It Looks & Acts Like a Real Tooth
As discussed earlier, dental implants look and act like natural teeth. The titanium post on the bottom acts as the root for the tooth and offers strength and support. The prosthetic will be based on an impression of the tooth and designed to fit perfectly with the rest of the surrounding teeth. 
It Feels Natural Too
The procedure for dental implants might be tedious and complex, but it's very comfortable once the implantation is done. The implants are attached directly into the jawbone where the original tooth would be. This means that the implants will stay firm inside the mouth. As a result, you can easily eat hard food without any complications, unlike dentures.
Helps Prevent Premature Aging
A single gap in your smile can affect your appearance. Your face shape and jawline may sag, causing the appearance of premature aging because of bone loss. The titanium post reinforces the jawbone and prevents sagging. 
Prevents Oral Diseases
Missing a tooth or a couple of teeth may put your oral health at risk. This is because food particles can easily sit between the gap of your teeth and cause bacterial buildup. This can pose a threat to surrounding healthy teeth. Only brushing and flossing won't be enough to stop this problem. To combat this, replacing your gap with an implant is the best way to lower the risk of oral diseases.
No Extra Support Needed
While dental bridges are a great prosthetic option to replace your teeth, the bridge works by attaching a prosthetic tooth to the other teeth of either side for support. Those are called abutment teeth, and they need to be shaped in order to use the prosthetics. These arrangements can strain teeth and an implant because an abutment isn't needed.
Dental Implants in Boca Raton
Need the best dental implant dentist in Boca Raton? Bright Horizons Dental has you covered with services ranging from general family dentistry to the most advanced cosmetic dentistry procedures. Call us on 561-989-0107 or visit our website to book an online schedule.