Some patients wear dentures for the replacement of one or more teeth. Dentures are either full dentures or partial dentures depending on the amount of teeth replaced. Dentures are a removable appliance.There are different types of dentures you can choose from. For partial dentures there are Valplast Dentures that have no metal, and there are also partial dentures that have a metal component. Each case is unique, and we will discuss which option is best for you.
What type of dentures are right for me?
A. Partial Dentures If you are missing some teeth, but not all your dentures is called partial dentures. There are traditional partial dentures that have a metal framework holding them in place and then there are all acrylid (alPal pink) dentures that have no metal. In order to know which one you would be a candidate for we would have to see you for an exam and discuss options.
Benefits Of Partial Dentures
There are a number of benefits to partial dentures. Some of these benefits include:
Improved appearance: A full set of dentures can drastically change the appearance of a person, making them look older and more tired. Partial dentures, on the other hand, help to maintain the natural appearance of the person's smile.
Improved oral health: Dentures can help to improve oral health by providing support for weak or missing teeth. This helps to keep the surrounding teeth in place and prevents them from shifting out of position.
Reduced risk of tooth decay: Without teeth, it is easier for plaque and bacteria to build up and cause tooth decay. Dentures help to reduce this risk by providing a surface
B. Full Dentures If you are missing all the teeth in either your upper or lower arch your denture will be a full one. These are made of an all pink material and their fabrication takes a couple of appointments.
Benefits Of Full Dentures
If you are missing most or all of your teeth, full dentures may be the best option for you. Full dentures can provide many benefits, including:
A restored smile – Full dentures can give you a natural-looking smile again.
Improved oral health – Without teeth, the bone in your jaw can recede, which can lead to problems with speech and eating. Full dentures help to keep your jawbone healthy and strong.
Enhanced self-confidence – Feeling self-conscious about your smile can affect your quality of life. With full dentures, you can feel confident when smiling and speaking in public.
Improved ability to eat – With full dentures, you can eat a wider variety of foods without worrying about how they will taste or whether you will be able to chew them.
C. Implants and Overdentures When considering a full or partial denture you can consider getting implants. Implants are the best solution to replacing teeth, and there is also the possibility of adding some implants to have a full denture that is more stable. When implants are added to help hold a denture in place, it is called an "overdenture" An exam is needed to see what options are right for you.
Benefits Of Dental Implants
Dental implants are a great way to replace missing teeth. They offer a number of benefits over other methods of replacing missing teeth, such as bridges or dentures. Some of the benefits of dental implants include:
Increased stability – Unlike dentures, which can slip or move around in your mouth, dental implants are fixed in place. This means they won't move around or slip when you speak or eat, which can help to increase your comfort and confidence.
Improved appearance – Dental implants look natural and can give you a more youthful appearance. They can also help to improve your bite and alignment.
Reduced risk of tooth decay and gum disease – Since dental implants are fixed in place, they don't rely on your existing teeth for support. This helps to reduce your risk of tooth decay and gum disease.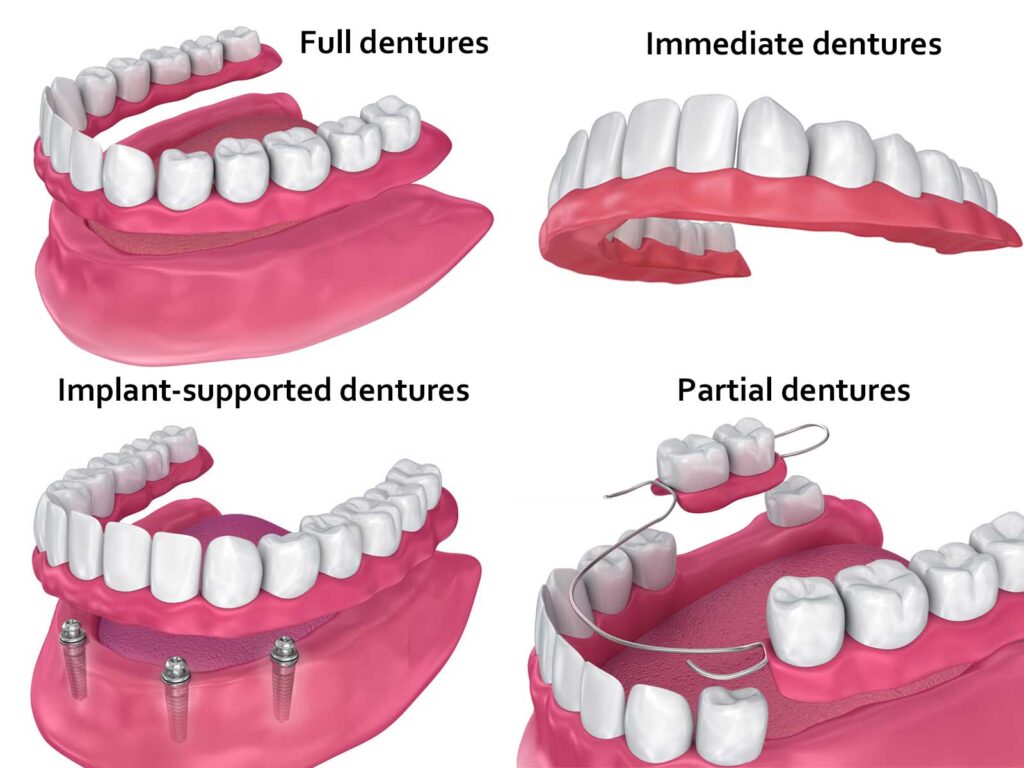 How long will it take me to get used to dentures?
New dentures will take a few weeks for you to get used to them because the muscles of your cheek and tongue need to get accustomed to them and learn how to keep them in place. As you start wearing dentures there will probably some adjustments you will need to come in for, after you start functioning with them. There may also be some adjustment with salivary gland production of saliva when you start wearing new dentures. Basically, it will take a few weeks before your body gets used to the denture.
How do I care for my dentures?
You have to keep your dentures clean, just like you have to keep your natural teeth clean. Take them off every night before you go to bed and soak them in denture solution. Do not forget to brush your gums and remaining teeth as well.
Don't worry about your teeth dentures in Boca Raton now! Bright Horizons Dental brings you the most comfortable options so that you can wear them all day long without any hustle. Call us for an exam and discuss options.

Bright Horizons Dental Boca Raton FL
5030 Champion Blvd, Ste. F5
Boca Raton
FL
33496
United States (US)
Phone:

561-989-0107